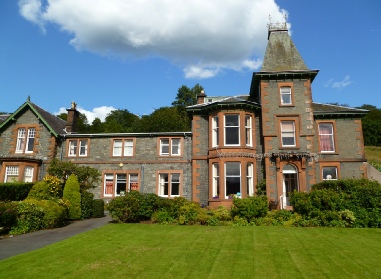 Top of Page
Welcome to the Bankfoot Residential Home web site. Bankfoot is a charitable organisation and owned by the local population and run by volunteer directors.
The aim of Bankfoot House is to provide a relaxed, comfortable and secure home for elderly people: whether they have chosen to live in a residential care home or are no longer able to live on their own. It is situated in a quiet leafy area within easy reach of Moffat. It is a pleasing, spacious building benefiting from a new extension added in 2018 giving it a total of 25 bed sitting rooms, almost all have ensuite facilities. Accommodation is in single rooms apart from one double which could be available. Residents are encouraged to bring their own furniture and effects with visitors welcome at all times. The gardens are well maintained and easily accessed with residents encouraged to use the summer house and cultivate the raised flower beds. Secure access provided in the sensory garden.
The essence of care at Bankfoot is for residents to have full choice in all aspects of their lives with the support of trained staff on a 24-hour basis. In line with the National Care Standards, staff are encouraged to uphold the basic principles of respect, dignity, realising potential, equality and diversity. This applies whether the individual is physically fit or frail, including people with mobility difficulties, those confined to a wheelchair or requiring the use of a hoist.